We've introduced this enrollment tool to assist our clients in enrolling into their plan of choice. We currently have the following carriers available through this tool:
Aetna
Amerigroup
Anthem Blue Cross
Asuris NorthWest
Caremore
Coventry
EasyChoice
EnvisionRx
Humana
Mutual of Omaha Rx
Regence Blue Shield
SilverScript
United Healthcare
WellCare
Once you are ready to proceed, please follow these steps to successfully enroll into your plan. If you see your plan but don't see a green "Enroll Now" button, please contact your agent to assist you further. Many carriers are waiting to be approved by the Medi-Careful site and will be available for enrolling at a later date. In the meantime, your agent will assist you and enroll you manually.
Step #1: Click the Logo Immediately Below:

Step #2: Select and complete eScope of Appointment form by selecting "Contact Us". Make sure you see your agent's name in the grey box before proceeding.

Step #3: Click on the "X" on the upper right hand corner to proceed to select your plan. The form will disappear and you'll be back to the homepage.

Step #4: Review the plans that work for your needs. (NOTE: you may need to contact your agent to ensure your doctors and prescriptions are completely covered by the plan you select)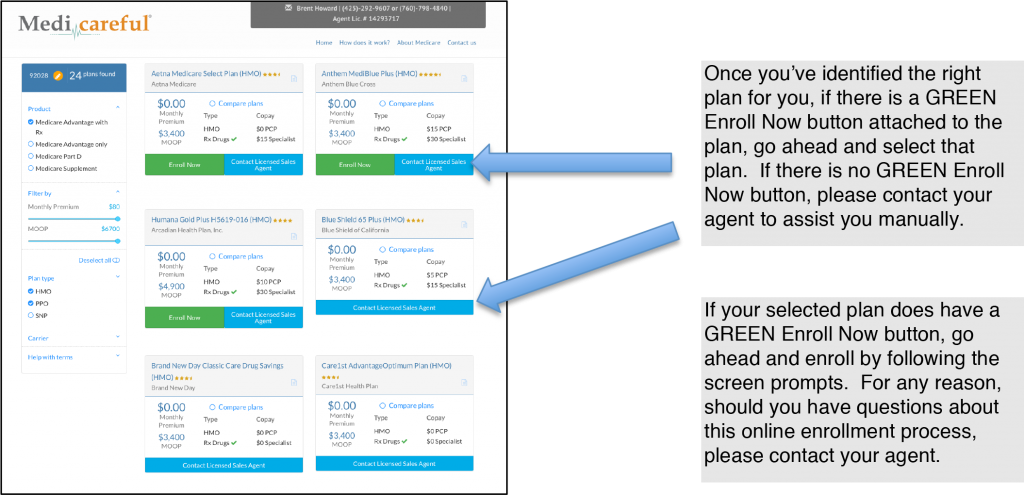 Step #5: After you've selected the Enroll Now button, you will see this page come up to help you proceed to the next stages of enrollment.